View cart
"Wolves" has been added to your cart.
Showing 25–30 of 30 results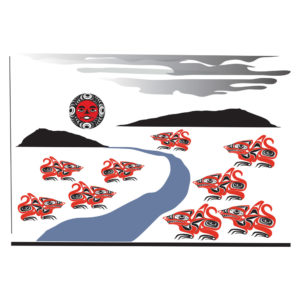 Waiting for the Tide
Certain First Nations of the Pacific Northwest Coast were great whalers. This design depicts the rivalry between ten whaling brothers. The oldest brother often made his prayers while on a sandbar, waiting for the incoming tide to cover his body. One day, while praying in this manner, his nine younger brothers attacked and killed him. During the fight, the oldest brother vowed that on an incoming tide his blood would find its way to their village. When his prediction came to pass, the people of the village avenged his murder by killing the remaining nine brothers. Many years later, the tragic history of this family was told by the elders at a village community gathering. The great-great-grandson of the brother who had been killed was asked by the elders to return home and take his rightful place among the Chiefs.
2008
Edition of 150
16" by 22"
Rated 0 out of 5
$

200.00
Add to cart