50% off Print Sale Ends in
Sale!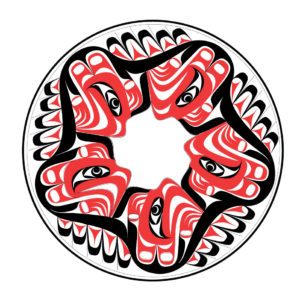 5 villages of the Makah
In the territory of the Makah people, their lands were occupied by five separate villages. On the ocean, their property reached as far as the eye could see. The purpose of such a large domain was to feed the people of the five villages all year long. These included De-aht (Neah Bay), Ozette, Ba'eyda, Tsoo-Yess, and Why-atch. To occupy such territory was a big responsibility, having access to the ocean and the broad Strait between home and Vancouver Island. When they enterthe Strait of Juan de Fuca, Europeans found that the Makah controlled traffic in both directions, and they needed to respect the inhabitants and give value for safe travels.
2018
Edition of 25
16" by 16"
$

200.00
Add to cart
John Goodwin
Nytom
Nytom is a Makah Tribal member born in 1948 and raised in the community of Neah Bay. He has a strong sense of family gained from extensive historical knowledge of Makah songs, dances, ceremonies, and rituals. A sense of family helps Nytom understand how the families of Neah Bay came to be and allow him to trace his connections with other First Peoples of the coast.