View cart
"Thunderbird Woman Transforms" has been added to your cart.
Showing 13–24 of 30 results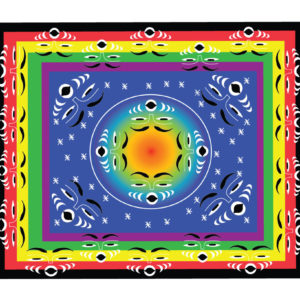 Children Born of the Sun
Making his way through this world as an artist has given Nytom opportunities to convey the deep meaning of the teachings passed down by his elders. An important teaching of his grandparents was, "It is the hearts of others with values that help preserve a positive way of life." In this design 'Children Born of the Sun' there appears the idea of the importance of teaching others the ways of our people. The Sun is representative of the Creator to many cultures throughout the world, and together with the Earth it transforms all living things. Nytom's grandmother liked to say that "when you see a rainbow in the sky, it means someone's prayers are being answered." The faces represent the spirits of our ancestors and children not yet born. How fortunate we are to have the sense of responsibility to teach others the ways of our people. We are truly all Children Born of the Sun.
2008
Edition of 150
15" by 19"
Rated 0 out of 5
$

200.00
Add to cart