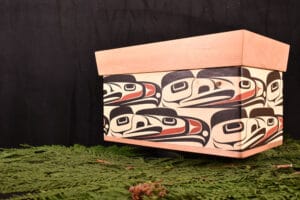 Hello everyone, yesterday like we had planned, a winner was chosen electronically by Moff Interactive Inc.
Out of 230 people that entered the drawing for the cedar chest, Mrs. Jolene Edwards was the winner.
Last night I was able to touch base with her, and give her the good news — "Congratulations!"
There's going to be many changes in the new year 2021, I am looking forward to those experiences that await me. I plan on continuing to post new art pieces on my site. So keep an eye open for the new posts! I have experience in a few of the mediums that lend themselves to Northwest Native design. I hope to share with you my knowledge in the design as well as the passion I have for the art in the different pieces that will be for sale on my site.
Before I close I want to thank Jeremy Moff owner of Moff Interactive Inc. He along with his staff have been instrumental in helping develop my website. My partner Greg Scherer, owner of Pacific Rim Hobby in Port Angeles has shown a support from the very beginning in my dream of having an online website. And I can't forget our nephew Nicholas Courtney, that helped bring forth and develop the business contract and connection with NYSUPREME.
And we just keep dreaming the dream! nytom